Best
Laser Skin Treatment Pune
In today's world of pollution, sun damage and sensitive skin are becoming increasingly common. Sun damage causes the excessive formation of melanin (hyperpigmentation) in the cells. The damage can harm your appearance and hide your healthy skin beneath.
We conduct the best skin laser treatment in Pune to counter sun damage. It is a fantastic procedure because it heals your skin cells from within and clears them up. The most experienced dermatologists do our laser skin treatment in Pune to provide an overall solution for your hyperpigmentation.
Eva Skin Clinic is one of the best centers for Laser Skin Treatment In Pune and Pimpri Chinchwad.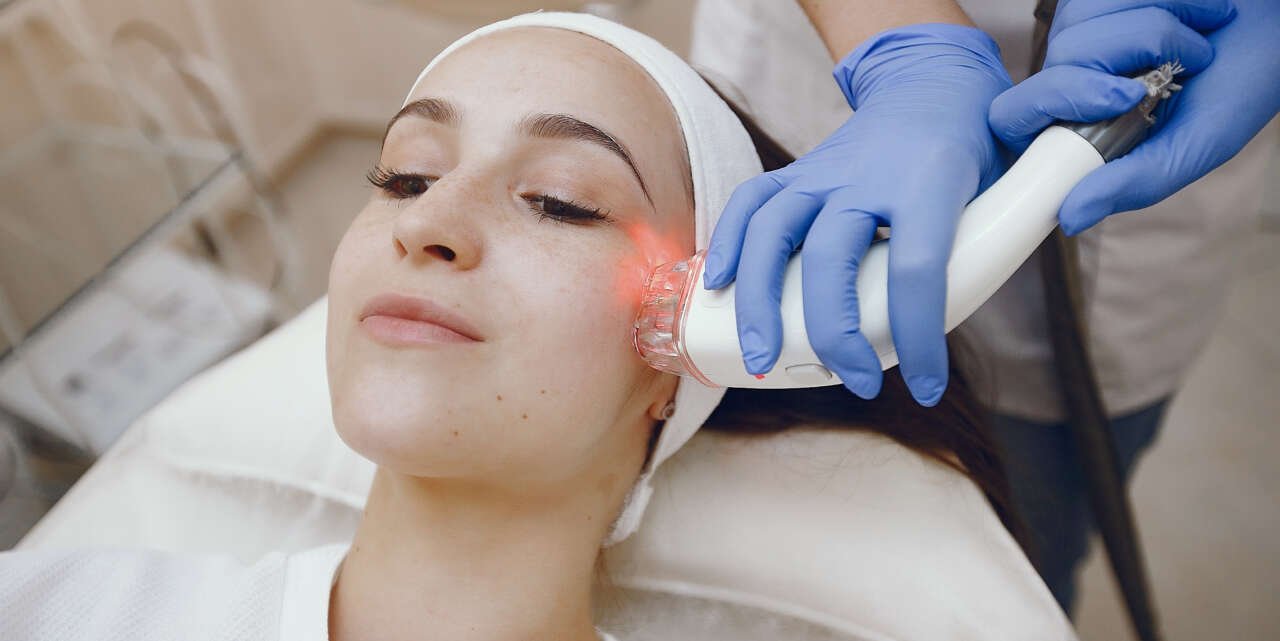 What is laser skin treatment?
Laser skin treatment is also known as photo rejuvenation. In this technique, concentrated and pulsating beams of light penetrate the outer skin layers to reduce dark spots, wrinkles, and Melasma.
Laser skin treatment is a non-invasive procedure that works in the upper dermis. It leaves no permanent scars or marks on your skin.
Our Laser skin treatment In Pune?
Light beams of particular wavelengths interact with the skin to reverse skin problems such as dark spots, lesions, wrinkles, and peach fuzz. Three types of lasers are used for different purposes.
1. Q switched Nd Yag Laser – Fractional Q switched ND YAG laser is a gold standard treatment to reduce tanning, uneven skin tone, and skin pigmentation issues like freckles, and sunspots. This Laser targets the melanin pigment inside the skin and breaks it into multiple small fragments which get eliminated through the skin. Multiple sessions are needed to get desired results.
This is the office-hour procedure and it doesn't involve any downtime.
2. Fractional CO2 laser treatment – Co2 laser treatment is well known and used to treat different skin problems such as Skin tags, Warts, Mole,s, etc.
Fractional Co2 laser is used to treat post-acne scars, Accidental scars, and skin resurfacing. This laser removes the upper layer of our skin and stimulates the formation of new skin. Post-procedure care I must after the treatment to support faster healing and to avoid PIH spots on the skin. Multiple sessions are required to get the best results.
3. MICRONEEDLE RF LASER TREATMENT – The MNRF laser skin treatment is the best solution for skin deeper skin concerns like Acne Scars, Accidental scars, wrinkles, and aging concerns. MNRF treatment does involve much downtime as it directly treats the skin from within without damaging the upper layer of the skin. The depth of the treatment can be adjusted as per the need to target scar tissue more effectively.
We provide complete Laser Skin Treatment In Pune and PCMC. Consult our skin specialists now!!
Is laser skin resurfacing safe?
We do the best skin laser treatment in Pune, and we assure you it is a completely safe cosmetic procedure. The radiation used is not ionizing or fission. Therefore, you will not have any long-term side effects from lasers. It is a US FDA-approved technology.
Where can laser skin treatment be used?
Laser skin treatment can treat a wide variety of skin problems ranging from aging to hyperpigmentation.
● Dark age spots
● acne scars
● wrinkles and fine lines
● uneven skin tone
● enlarged oil glands
● skin lightening
● Moles and warts removal
● Stretch mark reduction
● Facial hair removal
● Body Hair Removal
How many sessions does laser skin treatment take?
The number of sessions needed depends upon the grade of the problem, which may vary from patient to patient. Your dermatologist may take 4-6 sessions of laser skin treatment. An average of 6 sessions in six weeks are required to see visible results.
Your dermatologist will pace the next session after giving your skin complete time to heal.
Is laser skin lightening permanent?
The results of your laser skin treatment can be permanent if you take proper care of your skin. Use dermatologist-recommended products on your skin after therapy.
However, you cannot change your whole skin tone. Only tan lines, spots, and localized damage can be reversed from laser skin treatment.
Along with a good skincare routine, laser hair removal can be long-lasting.
Does laser skin treatment hurt?
Laser skin treatment may hurt you based on your pain tolerance. Many of our patients describe it as a rubber band hitting the skin. The pain is due to the light beam hitting the skin.
How to care for skin after laser skin treatment?
Some redness may be observed in the skin. After a successful session, follow the given steps to take care of your skin:
● Clean the area with a gentle cleanser.
● Use sunscreen daily.
● Avoid glycolic acid and retinoid products.
● Use cool, soothing moisturizers.
● Do not use tanning booths for at least four weeks.
What are the side effects of laser skin treatment?
We inform every patient of the side effects of laser skin treatment in Pune before starting a session. Every skin is unique. Hence, the treatment can have different effects on the skin.
● Scarring of the skin.
● Redness around the area.
● Itching and bumps.
● Bacterial infection in the open pores.
Consult your dermatologist if the side effects persist for more than a week.
Visit our specialty skin care clinic for complete Laser Skin Treatment In Pune with utmost care!