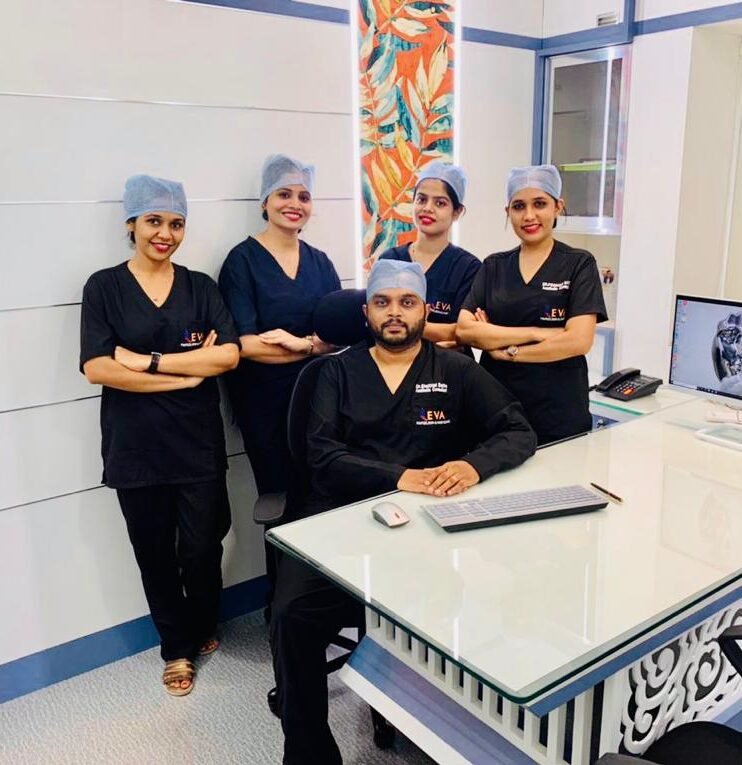 Eva - Pimple, Skin & Hair Clinic
Welcome to Eva Clinic, a premier dermatology and skin clinic in Pune. With over 11 years of experience, we specialize in Dermatology, Clinical Cosmetology, Medical Trichology, and Aesthetic treatments. Our dedicated team of dermatologists, cosmetologists, trichologists, and hair transplant surgeons is committed to providing the best skin treatment in Pune.
At Eva Clinic, we address various skin concerns such as pimples, acne pigmentation, dark spots, uneven skin tone, and other skin-related problems. Additionally, we offer comprehensive solutions for all grades of hair loss, hair thinning, and different hair and scalp-related issues.
Equipped with state-of-the-art facilities and advanced treatment modalities, our skin clinic in Pune ensures that you receive the highest quality care under one roof. We follow a patient-centered approach, focusing on personalized treatments for acne, hair fall, and other skin-related problems. Our team of specialists and staff work together to deliver exceptional results.
Eva Clinic combines a multi-pronged, 360-degree approach to address patients' concerns. We utilize gold standard clinically proven treatment modalities that are safe, result-oriented, and affordable. Every patient receives a customized plan tailored to their specific needs, ensuring optimal outcomes.
If you're seeking the best dermatologist in Pune for your skin and hair care needs, look no further than Eva Clinic. Schedule an appointment with our board-certified dermatologists, certified cosmetologists, trichologists, and hair transplant surgeons, and experience the difference in our comprehensive and personalized approach to skin and hair treatments.
Eva -Top rated skin & hair clinic in wakad
Amitkumar Mishra
2022-12-03
I had a fabulous experience. The doctor and other medical staff were too cooperative and friendly in nature. The doctor explained me everything clearly, the cause, the preventive measures and the treatment. One of the best in Pune in terms of expertise.
I'm so obsessed with the honesty of the doctor's here, they maintain the transparency so well with the patients about their treatment and their after effects, I have done my acne procedure from here and in love with the results, thanks Eva team❤️
I visited Eva clinic for my acne problem dr shalthiel sathe consult me..i got very nice result..all staff are very good and guide me very nicely thank you.
Excellent service for hair fall treatment. Received mesotherepy for hair gain and it showed very good results.
Had a great experience with Dr Sathe. He is really good at the explanation of the diagnosis and the treatment of any skin problems. If you any kind of issue with your skin must visit.
Acne which is also called as Pimples, is a common disorder of skin which involves hair follicle and sebaceous gland.
Pimples are formed due to overactivity of sebaceous gland due to excess androgens or hormone production which happens mainly at the time of puberty or adolescence.
Pimples on face while healing often lead to dark spots on the affected area, which is termed as Acne Pigmentation.
Acne scar is a permanent structural damage happened on the skin after healing of Pimples/ Acne.
latest blog
Eva Skin & Hair Clinic Updates