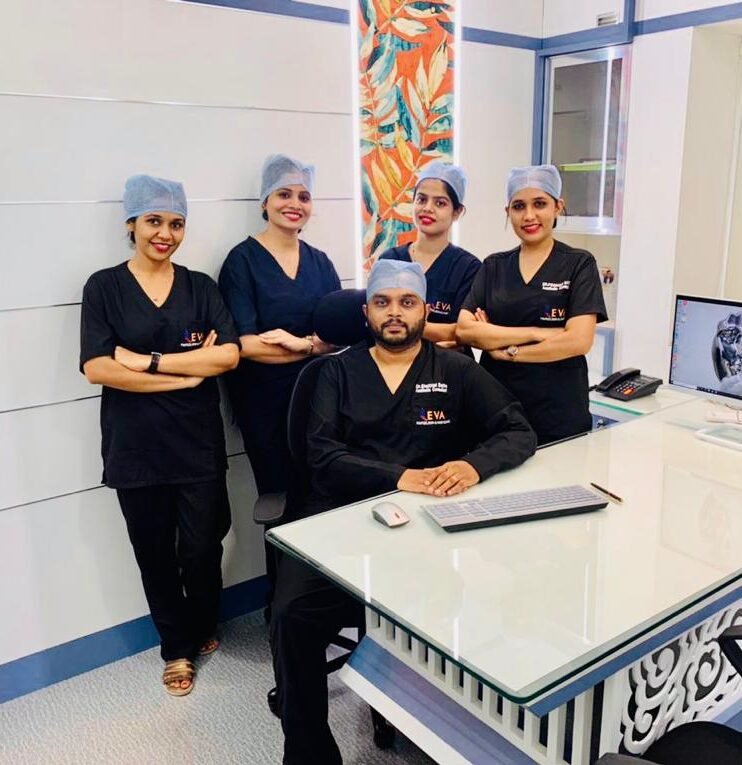 Welcome To The
Eva - Pimple, Skin & Hair Clinic
Some description text for this item
Dermatology ,Clinical Cosmetology, Medical Trichology & Aesthetic Clinic, with more than 11 years of experience in the field of Dermatology, Aesthetic Cosmetology & Trichology and Hair transplant (fue) surgery . We are Specialized in treating various skin concerns such as Pimples , Acne Pigmentation , Dark Spots, Uneven Skin tone & others skin related problems. We are also specialized in treating all grades of Hair loss, Hair thinning & different Hair & Scalp related issues. Eva Clinic is well equipped with all modern & advance treatment modalities under one roof.
Our Mission is to bring a patient-centered approach to the treatment of PIMPLES, HAIR FALL OR SKIN related problems under one roof -Under the supervision of specialist team of doctor's and staff.
EVA – PIMPLES, SKIN & HAIR CLINIC is staffed by board certified Dermatologists, certified Cosmetologist & Trichologist , Hair transplant surgeons and clinical aestheticians to provide our patients with best skin & hair care.
EVA – PIMPLES, SKIN & HAIR CLINIC uses a multi-pronged-360-degree approach to treating patients' problems with advance gold standard clinically proven treatment modalities which are very safe ,result oriented and affordable,Patients receive a customized plan tailored to their specific needs.
the right choice!
Our Services
Some description text for this item
1
Acne & Pimples Treatments
explore our team
The Doctors
Some description text for this item
Patient Testimonial
Eva -Top rated skin & hair clinic in wakad
Some description text for this item
Went for hair fall treatment and was really satisfied with the result after 6 months. Hair quality improved with more thickness and more density.Staff is very cooperative and polite. They never forget reminder calls before every appointment and follow-up call next day after any treatment.
The doctor has treated my acne issue really well. The entire team has been very cooperative throughout. I recommend Eva clinic to all.
I have get Acne treatment at Eva pimple,skin clinic & got excellent result as well as the clinic environment is very helpfully also Dr adv is very friendly.....
I am very happy. All the doctors and staff at the clinic are very supportive and helful. The place is quite and clean. The best clinic for skin hair and all related issues. I recommended to all
Worst experience! This clinic is nothing but a money making clinic. Do not waste your time and money there. I had choosen this clinic based on reading positive reviews on Google but it's disappointing for me since I've paid so heavy charges and got no results. This makes me rethink should we really trust online reviews. Believe me, it's total waste of time and money for any treatment you take. Doesn't even deserve a single star. I visited this clinic for lip pigmentation and doctor suggested lip coloring treatment and charged 10k per session and as per initial discussion only one session was required along with an another touch up session and I attended both and when they couldn't give the result they asked me for third session. But after paying 20k I lost my trust on them. I think this kind of clinic should stop making their patients fool. Complete waste of money and time. Don't suggest anyone for this place.
shrikant kulkarni
16/06/2022
Great experience with Eva clinic. Dr Sathe and the staffs were always helpful and kind. I am so glad I chose eva clinic for my skin treatment
Jagdish Suryawanshi
16/06/2022
Dr sathe is the best consultant .....
The staff of the clinic is extremely helpful. The place is quite clean, ambience is good. Overall it was a great experience. I recommend it.
Shubham G Kulkarni
16/06/2022
Let's get you started!
F.A.Q.
Some description text for this item
Acne which is also called as Pimples, is a common disorder of skin which involves hair follicle and sebaceous gland.
Pimples are formed due to overactivity of sebaceous gland due to excess androgens or hormone production which happens mainly at the time of puberty or adolescence.
Pimples on face while healing often lead to dark spots on the affected area, which is termed as Acne Pigmentation.
Acne scar is a permanent structural damage happened on the skin after healing of Pimples/ Acne.
latest blog
Eva Skin & Hair Clinic Updates
Some description text for this item