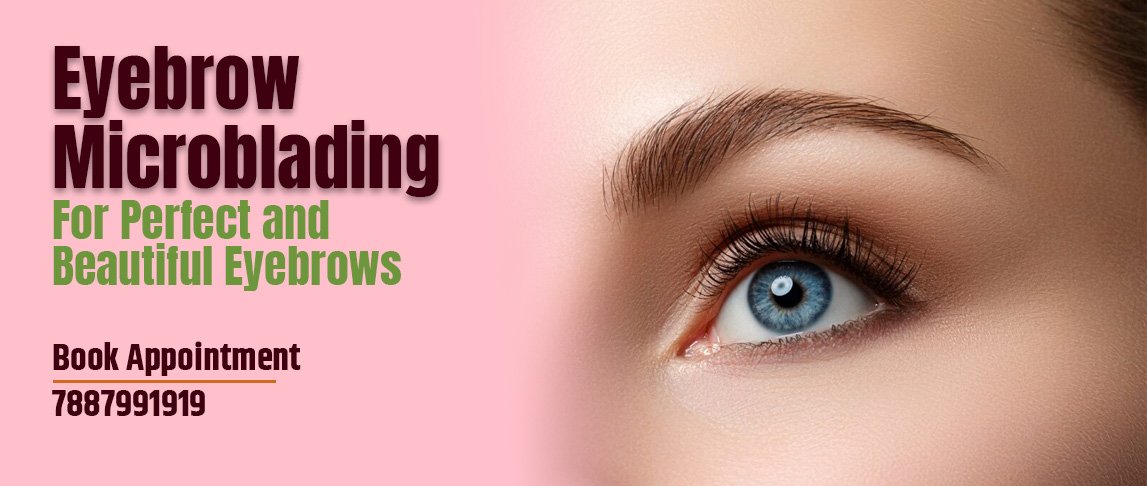 What is Eyebrow Microblading?
Eyebrow microblading is a new edge treatment for thin and sparse looking brows. In this treatment, multiple hair like strokes are added to your existing to eyebrow hair with the help of manual instrument.
These added strokes resemble with your existing hair and adds volume and density to it. This results in fuller and natural looking permanent brows.
Eyebrow microblading procedure is a painless, office hour procedure which gives instant natural looking results after treatment without any downtime.
Different techniques like "ombre or powder brows" and "Microblading" are used based on the individual requirement and level of expectations.
What to do before your Micro blading appointment?
– If you are doing threading for your eyebrows, do it 3 to 4 days before your micro blading procedure.
– If you have any particular brow shape in your mind, you can fill your brows with brow pencil to show the look to your esthetician or micro blading expert.
– If you are under any skin treatment like for acne or ant ageing, do not apply the prescribed anti acne or ant ageing retinol-based skin serums on skin as this may causes more dryness and irritation on the treatment area.
– If you have done Botox, for your forehead lines, crow's feet then you should consider your appointment after 1 month of your Botox procedure.
– Chemical peels and other laser treatment should also be avoided min 2 weeks before and after micro blading procedure.
– Avoid direct sun exposure as on beaches, sea shore before your appointment.
– If you are on any blood thinners, then you should always consult your micro blading expert and stop medications at least 7 days before procedure.
– If you are having keloidal tendency, then you should not go for this procedure as it involves the formation of keloidal scar on the treated area.
DO's and DONT's one should know before undergoing Eyebrow Microblading Treatment?
A person having very sparse eyebrows can undergo procedure of Eyebrow microblading unless they don't fall under below mentioned conditions.
Person if female, should not be pregnant.
He/she should not have keloidal tendencies. [ Tendency of skin where raised, thick, elevated scars happen after any injuries.]
Person should not be on any blood thinners or anticoagulants like Ecosprin when undergoing treatment. These medications have to be stopped at least a week before the procedure.
Person should not have any active infections like Eczema or psoriasis on the treatment area. This can lead to more infection after the procedure.
A person who doesn't have eyebrows due to underlying autoimmune conditions such as Alopecia Areata or Alopecia universalis has to be evaluated before the treatment. Giving best results in such cases is more challenging and difficult as injected ink may get fade after the treatment and patient may need touch up after treatment.
These patients have to be evaluated thoroughly and stabilised for their problems before undergoing the procedure of eyebrow microblading.
Meet your nearest best Eyebrow microblading Doctor to know more about this treatment.
Does Eyebrow microblading results last longer?
Is Eyebrow microblading permanent? How long the results of eyebrow Microblading last?
Most of us have these queries when it comes to eyebrow microblading. Most of us feel like microblading is just like getting tattoo done on your eyebrows, but it's not the case.
Microblading ink is injected quite superficial into the skin at the level of lower epidermis while Tattoo ink is injected deeper into the dermal level of our skin. As a result of this. Microblading can get fade over the time of 2 to 3 years and person may need to do it again to get their desired look.
Results and longevity of Microblading also depends on the type of skin you have and underlying medical condition if any. Person having excess oily skin, tend to fade the link little faster compared to those having dry skin.
A person having underlying autoimmune conditions such as Alopecia areata are difficult to treat and may need repeated touch ups as their body doesn't accept the pigment effectively compared to others.
What is the difference between Eyebrow Microblading and Micropigmentation?
In eyebrow microblading procedure, multiple fine hair like strokes are created with Manual instrument which inserts the ink into the skin
Whereas, in Eyebrow micropigmentation the pigment is imparted into the skin with the help of one machine in multiple small pigment dots.
Eyebrow microblading and Micropigmentation can be done simultaneously to achieve best and long-lasting results.
 Are there any side effects of Microblading treatment?
What precautions we need to take after microblading procedure?
These are the multiple sets of questions which comes to our mind whenever we think of going ahead with eyebrow microblading treatment.
Let me tell you guys, Eyebrow microblading is completely safe and good treatment if you do it from expert's hand.
These are the precautions you need to take after procedure-
Do not let the treated area get wet for min 7 to 8 days after procedure.
Avoid vigorous and sweaty exercises for 7 days.
Your sweaty skin can lead to fading of the ink before it sets in skin.
Apply a prescribed topical antibiotic for 2 days to the treated area to help it heal faster.
Apply regular Vaseline to the treated area more frequently to allow easy scabbing and to avoid itchiness while healing.
After complete healing, get into habit of applying broad spectrum sunscreen to your brows, as pigment gets lightened if you are continuously expose yourself to sunlight.
Avoid any laser, chemical peel, light therapies and creams for 10 to 15 days after the treatment.
To conclude Eyebrow microblading is completely safe and comfortable, painless procedure for thin looking eyebrows.
Always try to do this treatment with proper prechecks and under guidance of best skin professionals.
Does my Eyebrows look more darker after Microblading?
Let me tell you guys, your eyebrows are going to look more darker immediately after eyebrow microblading procedure and you may find it looking unnatural.
But do not worry……. It's completely normal.
Yours micro bladed brows look more darker in next 4 to 5 days after procedure due to formation of tiny scabs into the treated area. During the procedure. The pigment ink is painted onto to the brows to give more thicker and fuller look. But your skin absorbs some part of pigment and gives the better outcome. Person having excess oily skin tend to see lighter shade than those having dry to normal skin.
After eyebrow microblading procedure, your skin takes 30 to 45 days to absorb the ink well enough into the skin and shows its optimum results.
Hence, you may feel your brows looking unnatural in a span of 1 month but, in upcoming few days you get to see the complete natural looking brows after eyebrow Microblading procedure.
Note to remember, person need to take prescribed care for next 5 to 6 days of microblading procedure to get the best out of it.
Important steps to be followed before and during your microblading appointment with best Microblading doctor near you-
Eyebrow shaping with thread can be done to let your microblading expert know what shape of brows you want.
If you have tendency of forming keloids on skin after any injury then you are not the right candidate for going ahead with microblading procedure.
choose best microblading expert who has good reviews and best skills to design your eyebrows which will look natural after Microblading session.
When visit your Eyebrow microblading expert, discuss with them about the level of your result expectation and also ask them to show you the look how will it look after Eyebrow Microblading session.
Always take into consideration your Microblading specialist while designing your brows as he is the right person to judge the look after microblading session.
Too high, too Low eyebrows can give drastic change in your looks especially in them having very fine and thin looking brows, hence you should always consider natural angle of your brows without disturbing it.
Microbladed brows look more darker and thicker after 3 to 4 days of session, it takes 40 to 45 days for pigment to get completely settle into the skin and looks natural.
Once you know the procedure about Eyebrow microblading treatment, then you can go ahead with the session without any query in mind.
Visit best Eyebrow-microblading doctor in Pune to know more about these treatments.
   Scalp Micropigmentation [SMP]
What is SMP? What is Scalp Micropigmentation?
Who are the best candidates for SMP?
SMP, Scalp Micropigmentation is a non surgical cosmetic procedure performed on the areas of scalp especially for those having Complete baldness, diffuse pattern of hair loss, thinning of hair on scalp in female.
In SMP, multiple tiny hair like dotted strokes are created on the upper layer of your skin on scalp with the help of electric instrument which adds pigment ink into the skin. The type of ink used in SMP, depends upon the type of your skin color.
SMP treatment is less painful and much comfortable without much downtime. Treatment is done under topical / cream anesthesia.
Time involved for doing the procedure, depends upon the area to be treated. MP is usually performed in 2 to 3 sessions based on the extent of hair loss.
Individual session can take upto 4 to 5 hours to compete the procedure.
Results of SMP treatment are visible immediately after procedure, however, pigment takes around 45 days to absorbs into the skin effectively.
A well experienced medical practitioner who has complete knowledge about Hair, natural looking hair line and different angles of hair will be able to give the good results after SMP treatment.